Night of the Purple Moon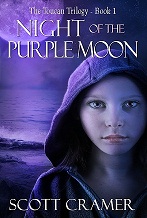 Finally, I get to do a book review over something besides cats! I have about 20 books in my queue to read. This was the third one on my list. I hope that over the holidays I can read a few more. The book for today's review is Night of the Purple Moon.

Currently on Amazon, the book has over 155 positive reviews – so anything I write is pointless – I think reviews on Amazon have more value. Just my opinion.
However, I read it and here are my thoughts.
Title – Night of the Purple Moon
Author – Scott Cramer
Summary - Abby Leigh is looking forward to watching the moon turn purple, unaware that deadly bacteria from a passing comet will soon kill off older teens and adults. The lightning-fast epidemic sweeps across the planet when the germs attack the hormones produced during puberty. On a small island off the coast of Maine, Abby must help her brother and baby sister survive in this new world, but all the while, she has a ticking time bomb inside of her — adolescence.
Price – $9.95 Paperback and $3.99 Kindle Purchase
When I do a review – I go over five key factors.
Title
Night of the Purple Moon is great. No complaints here.
Cover
It's a great cover. It has, whom I assume, is Abby and reflects exactly what the title says – The Night of the Purple Moon. However, if I didn't read the summary first, I would have thought it was a teen romance book or something along those lines.
Formatting
The content formatting was perfectly fine.
Content
     Was it easy to read – yes.
     How was the spelling and grammar – perfect.
     Was it interesting?

This was where I pleasantly surprised and a little disappointed. When I first started reading the book and the subject of the comet presented itself – the first thing that came to mind, was the movie Night of the Comet. It also made me think of other movie references along the same lines. Because of this, for a few chapters I was less enthusiastic about reading because I thought it was a rehash and not original. As I progressed through the book and learned more of the twist on the post-apocalyptic survival tale – I was sucked in. It was very readable, easy to follow, and kept my interest. However, it was very predictable, and really more of a young adult read.
Price
With a softcover price of $9.95 and an eBook price of $3.99 – this is big price to pay when other great books are available for the low cost of 99 cents. Some of the used versions of this book are going for $22! So, I don't know what exactly is going on here to justify this price. Then again, I'm upfront and honest – I'm not a pricing expert.
Over all
It's a good read. I'm a little torn on the actual purchase price but I'd still recommend it. As a personal note to the author – you could have written a whole book just over the two-month process where the kids learned to live and work together.
Thanks,
Leo