Head Shot – Saints and Sinners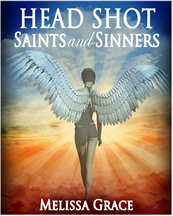 Over the past few months my work life and personal life has been turned upside down. You would think a person could spare just a few minutes each week out their busy schedule to post an update. I'm proof that's not true.
On to the goodness!
Last month I finished up Head Shot by Melissa Grace.
I'm not sure if I stated this before or not but I love reading well-crafted short stories. In my personal opinion, they are few and far between.
Title
–
Head Shot
Author – Melissa Grace
Summary (Amazon)– What is it like to endure countless head shots from an abusive parent? When the latest round of "head shots" lands Reagan in the ER—and subsequently, the all-female psych ward, the endearing, funny, and totally witty teenager feels the need to save face. She explains away her copious amounts of bruises and frequent seizures by pretending to be a mixed martial arts pro-athlete. Passing time in the psych ward, Reagan entertains herself by undermining her Psychologist and by labeling each of the other "crazies" as either a saint or sinner, based upon their own behaviors. Although she prefers solitude from the others, when Reagan is forced to share her tiny room with a newly admitted patient named Taylor, Reagan is utterly intrigued. Oddly enough, she can't help but take a liking to this delightfully-affectionate roomie and life at the psych ward becomes a whole lot more interesting. Who says you can't laugh and find some enjoyment in life, even when you've been committed?
Length – 30 Pages
Price – .99 cents
Here are my thoughts and opinions.
Cover
By far this is one of the best eBook covers I have seen from an indie publisher. It is striking and attention getting. The cover can easily grab the attention of a causal shopper. Even in thumbnail form, it's still readable. 
Formatting
The content formatting was great.
Content
     Was it easy to read – yes.
     How was the spelling and grammar – perfect.
     Was it interesting?
As a reader, I want to be engaged instantly with in the first couple of pages. I think maybe it's because I have ADD. Unlike movies that are slow in the beginning and build to a climax – books to me are not quite like that. I NEED that hook at the beginning to help me journey through the pages until the end. That's why I like short stories – it forces an author to speed up things.
Now that you know what I like – you'll understand why I liked this book. It didn't start out with a bomb exploding or some type weird beginning that takes 10 pages of detailed description so a reader can visualize it. Head Shot starts out and finishes (pretty much) inside the mind of the mentally troubled Reagan.
When I started reading this book, I didn't read the narrative on Amazon. I just started reading it. I was lost and totally intrigued at the same time. The events, description, the internal monolog in the first few pages had me wondering what the hell was going on. It had me hooked and that was exactly what is was supposed to do.
Price
.99 cents – and it's worth it.
Over all
It's a good read.
-Leo
In compliance with FTC regulations, I am stating that I receive most of the books I review at no charge from publishers, authors, publicists, witches,  imaginary friends, the tooth fairy and other sources in exchange for my honest review of the book.  I receive NO monetary compensation for my opinions or my time. The opinions expressed in my reviews are my own.
I provide purchase links to the books I review as a courtesy to my blog readers. I receive NO compensation for any purchases made from any of the links I provide.
I'm an avid movie buff and video game player. I see humor all around us in life and really don't have a problem commenting on it. I am a fun and easy going dude who just likes to write from time to time.