I like Lasagna. I haven't had really good Lasagna since mom cooked it for me when I was a wee lad. As my 50th birthday drew near, the wife decided to track down that best lasagna in town. A simple question on the Support Frisco Restaurants garnered 100s of comments.
When it was all said and done a list of the best lasagna was created.
I decided to track the reviews of each on here on my unread blog – instead of creating numerous posts over and over on Facebook and then trying to figure out how to share them.
A disclaimer – I'm not the foremost authority on lasagna. This is just my personal opinion, tastes, and stuff like that. I mean no ill will toward any of the places I've currently tried or will try. If I don't like the dish from a specific spot – do not take it personally. I could be the only one in the world who has a different take on it.
Also, I might throw in a few comments on experience, services, or the general atmosphere. While some of these comments might be negative – it had no impact on my review of the lasagna.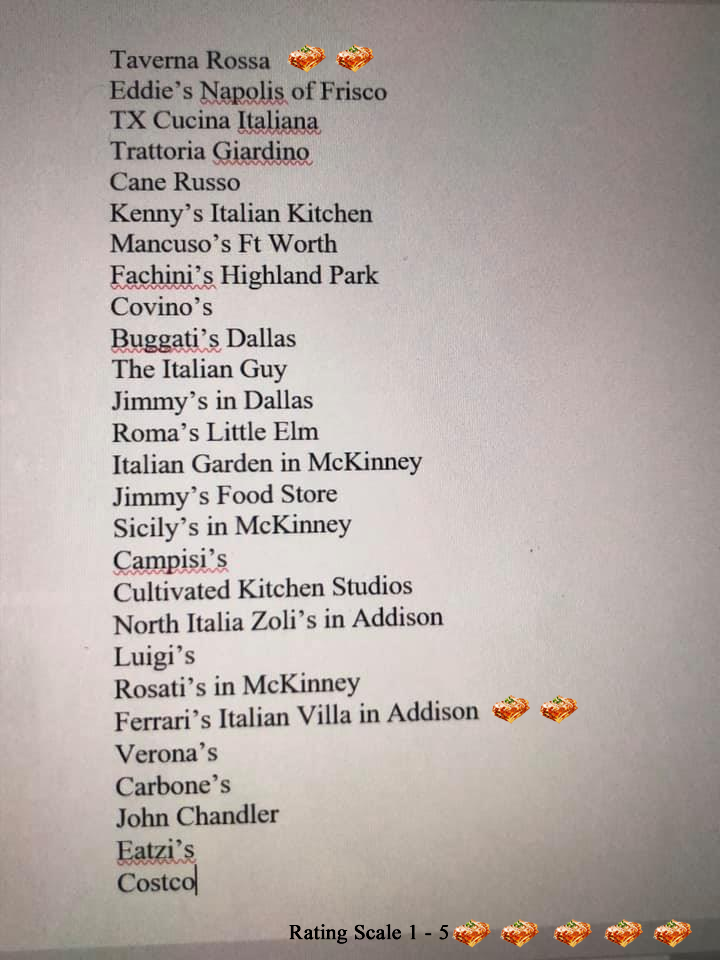 Here is the 'list'. I didn't create the list. However, I did create the rating scale which goes from 1 to 5. We tried to places on my birthday.
Taverna Rossa
I ranked it as a 2 out of 5. Now, 2 sound bad but it's not. There are places that are not even on the list. So a 2 isn't bad. The lasagna was a bit unique because it used brisket. While I'm not a stickler for tradition, the brisket was a bit 'weird'. The flavor of the lasagna was just 'ok' but nothing out of the ordinary. It lacked in spices and was a bit too soupy. With a little bit of modification, this lasagna could have been an easy 4-5. The service was great, the place was clean, and the drinks were fantastic.
Ferrari's Italian Villa in Addison
I ranked it as a 2 out of 5. This lasagna has me totally confused. The 'mama's meat sauce' (which I giggle at) looked like a tomato-cream style sauce. I'd never seen any like that before. The flavor was so familiar to me but I couldn't place it. Then my son tried it and said – "omg that tastes just like chef Boyardee". And he was right! Now, for you people out there who might rail me – the whole family loves chef Boyardee. While it might have tasted like it – I know it was not that. Like Taverna Rossa, their lasagna was just ok. I really couldn't taste any meat and it was soupy also. It could have used a little more spice to help it out. Sadly, while the place was a nice place, our service was really slow. No one should have to wait 15-20 minutes to actually pay and leave a restaurant. The other food the family ordered was awesome!